Federal Jury Convicts Ricky Vaughn for Voter Suppression Scheme
Douglass Mackey, better known by his online alias "Ricky Vaughn," was found guilty by a federal jury of conspiring to deprive individuals of their right to vote. Mackey's charges were brought about by the Justice Department one week after President Joe Biden took office, nearly four years after the alleged offenses occurred. The Justice Department alleged that Mackey conspired to "injure, oppress, threaten, or intimidate" people from voting in the 2016 Presidential Election.
Potential Prison Sentence for Mackey
Mackey could face a maximum of 10 years in prison after he is sentenced. United States Attorney Breon Peace stated, "Today's verdict proves that the defendant's fraudulent actions crossed a line into criminality and flatly rejects his cynical attempt to use the constitutional right of free speech as a shield for his scheme to subvert the ballot box and suppress the vote." Mackey's attorney, James Lawrence, previously argued that Mackey's memes were satirical and therefore did not violate the law.
Dissemination of Fraudulent Messages by Mackey and Other Twitter Users
According to the Justice Department, Mackey worked with other influential Twitter users between September 2016 and November 2016 to disseminate fraudulent messages. The messages persuaded voters for Democratic presidential candidate Hillary Clinton to cast their ballots via phone or social media. One image featured a black woman standing in front of an "African Americans for Hillary" sign and said "Avoid the Line. Vote from Home," "Text 'Hillary' to 59925." The Justice Department reported that 4,900 unique telephone numbers texted the hotline, although it was unclear how many were participating in the joke rather than trying to cast their ballots.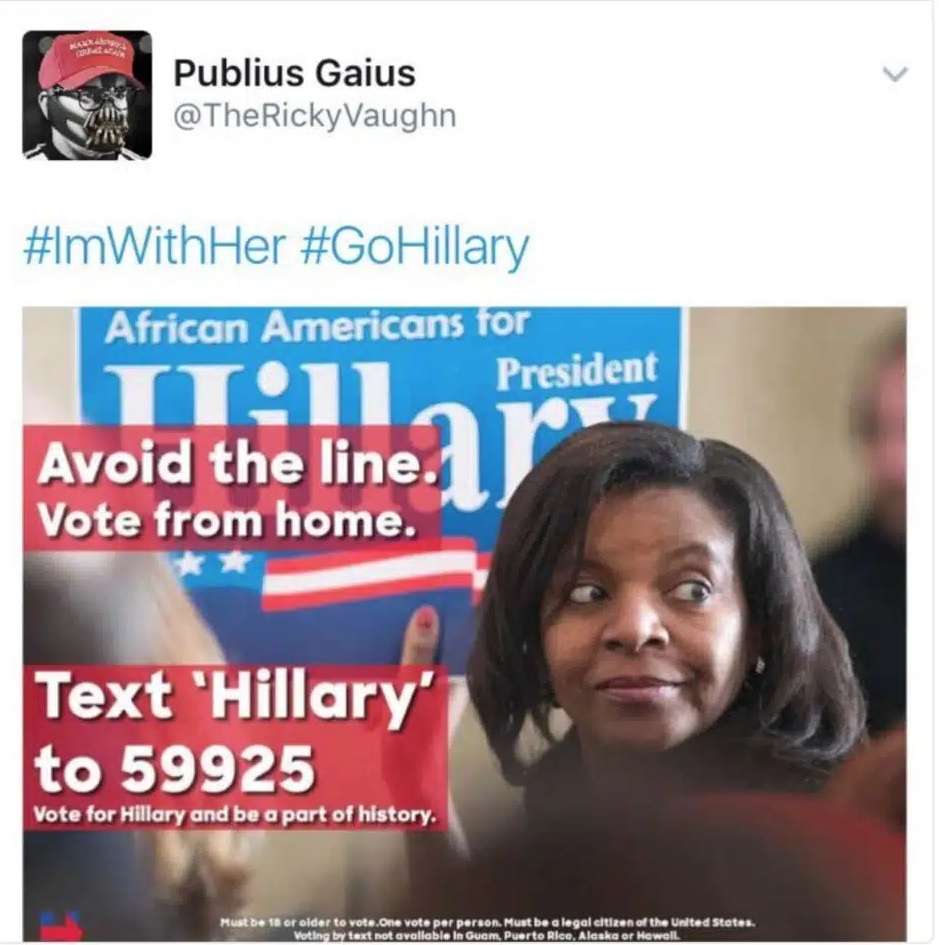 Controversy Surrounding Mackey's Conviction
Mackey's conviction has sparked controversy, with some arguing that his right to free speech has been violated in a politically motivated case by the Biden administration. However, former federal prosecutor Andy McCarthy wrote in an opinion piece for National Review, "It's a three-fer: the prosecutorial creation of a crime Congress has not prescribed, the trivialization of civil-rights law, and the intrusion of government as a monitor of political speech."
The conviction of Mackey also coincides with the recent indictment of former President Donald Trump by Manhattan District Attorney Alvin Bragg for alleged hush money payments to porn actress Stormy Daniels during the 2016 election cycle. The case has been similarly characterized as politically motivated since Bragg has a reputation for his leniency towards violent offenses in New York City.