In what looks to be an attack on multiple electrical substations in North Carolina's Moore County, 60 percent of the county was left without power over the weekend. Local and State authorities have investigated the incident as a "criminal occurrence" as this situation is far from normal for the over 45,000 homes and businesses affected by the situation. According to the Moore County Sheriff's Office, the county was "plunged into darkness" Saturday night with around 35,000 homes still lacking power Monday morning.
During a press conference, Sunday evening, Moore County Sheriff Ronnie Fields said that substations, within the county, had been shot by gunfire in a "targeted attack." Fields mentioned that the Moore County Sheriff's office would be working with the FBI and the State Bureau of Investigation to get to the bottom of the situation. As a response to the situation the sheriff's office declared a state of emergency and imposed a curfew of 9 pm Sunday, they also closed schools Monday.
Though some believe that the outage could have been caused to stop a drag show that was drawing quite a bit of attention in Southern Pines. As the two events occurred at the same time Saturday evening. At this time, it has not been confirmed that that is the reason for the shootings that the substations attained.
Drag shows that seek out audiences that include children have been growing in recent years. With this, outrage towards the organizers of these events has been growing as well, with many questioning the motives behind the decision to invite children to an event that is labeled as "adult themed." The popular Twitter account, "Libs of Tik Tok," posted about the event taking place prior to the alleged attack on the drag show that invited children.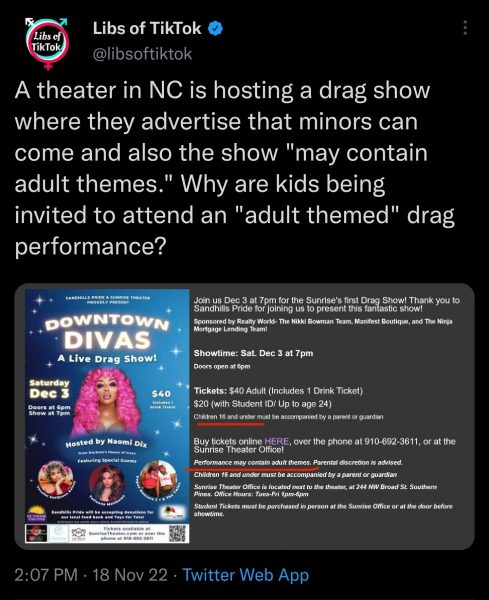 Many have chosen to place part of the blame on "Libs of Tik Tok" for posting information about the event, however, this was not a secretive or underground event. Twitter accounts have a right to post about publicly advertised events, especially in a way that does not incite violence, which this post obviously does not.
The energy companies have estimated that the power outages may extend into Thursday after they looked at the damage to the substations.
Read more on this developing story at AXIOS.